Three generations, one story
Karl Breslmair Sr. was born on 4.11.1914 in Mannersdorf am Leithagebirge (Lower Austria). His technical talent and musicality were already noticeable at an early age. After a technical education, he worked as a mechanical engineer in various industries. In the difficult years between the wars he was never unemployed, and he spent his meagre free time mostly making music. His whole passion was the violins and playing the violin. He played in several local orchestras and later began to make violins himself. He spent the war years as a technician at the Messerschmitt aircraft factory in Wr. Neustadt, where he experienced the heaviest bombing raids of the Second World War, which cost him all his possessions.
In 1945 he founded his own company in Sommerein and worked independently as a tradesman (repair workshop for agricultural machinery) until he was called to the newly founded Seibersdorf Atomic Research Centre as workshop manager in 1959. The steady income as an employee and the reviving economic situation of those years allowed him to devote all his free time to instrument making. He built violins according to his own designs, which impressed with their great tone and excellent varnishing.
Just at the time when he had achieved a certain mastery in this field and had also carried out the most difficult repairs of old instruments on the side, he was given the additional task of making mouthpieces. Despite the many activities he undertook, he was always a quiet, balanced family man. Respected by his superiors and respected by his co-workers, he worked at the Seibersdorf Research Centre until his retirement in 1974. He continued to devote himself to mouthpiece making in an innovative way and as a result received the Ring of Honour of the Vienna Symphony Orchestra and a high distinction from the University of Music in Graz in appreciation of his work.
Karl Breslmair stood in his beloved workshop until the last hour of his life and died unexpectedly on 17.9.1985 at the age of 71.
The genesis of the Breslmair mouthpieces
The production of mouthpieces was started by my grandfather Karl Breslmair in 1968 by a coincidence worth telling.
The Vienna Philharmonic's collection included an old trumpet mouthpiece that had been made in a Viennese master workshop. The first trumpeters of the Vienna Philharmonic at the time, Professors Josef Levora and Helmut Wobisch, "shared" this mouthpiece, which was outstandingly easy to play and had an ideal sound.
Prof. Wobisch was friends with Wolfgang Higatsberger, professor at the Vienna University of Technology and head of the Seibersdorf Atomic Research Centre, whom he told about this mouthpiece one day.
Wherever the Vienna Philharmonic toured, they tried to find instrument makers who could copy this unique mouthpiece. But no one was able to copy this old unique piece. Higatsberger said that he could probably help him, since almost anything was possible in Seibersdorf.
Perhaps at that moment he was already thinking of my grandfather, who was appreciated by all researchers as a brilliant technician. He always found solutions in situations that seemed technically hopeless; he knew how to help physicists, chemists and biologists without bureaucracy. In personal conversations, he recognised problems immediately and usually had patent solutions at the ready. As a co-founder of the Werkorchester, violinist and violin maker (a hobby since early youth), he was "the" man for Higatsberger who would also know what to do with mouthpieces.
Until then, brass music was frowned upon in the Breslmair house. Violin music was our passion. Brass in the orchestra, if necessary, was tolerated. However, the name "Vienna Philharmonic Orchestra" made my grandfather sit up and take notice. It was a special, honourable task that appealed to him. He was to build mouthpieces for what were probably the best musicians of the time. No instrument maker had yet been able to satisfy the wishes of these gentlemen.
No one could copy this inconspicuous thing, produce an equivalent. Now it was up to my grandfather, whom this order gripped wholeheartedly.
As a 14-year-old, my father was also peripherally involved in the work of my grandfather and his team as a summer intern. He had to interpolate endless columns of numbers and draw coordinate points on graph paper. Months later, the first mouthpieces could be made.
My grandfather brought these prototypes to the "Bühnentürl" of the Vienna State Opera and handed them in there as instructed. All of them bore the designation G1, as the first usable prototype series after the gilded (G), the old, nameless original (perhaps from DEHMAL's workshop in Vienna).
What would be the verdict of the soloists? The job was done. Was it?
Within a few weeks, the mouthpieces were distributed among a few top musicians, the result unanimous. My grandfather had indeed succeeded in developing a mouthpiece that could meet the highest demands. The news spread like wildfire that the "Seibersdorf" mouthpieces finally did justice to the Viennese style of sound again.
Trumpet mouthpieces were made in a workshop of an atomic research centre from this time on. The knowledge about the shapes of the cups and dimensions of the bores could also be transferred to other brass instruments. My grandfather's joint experiments with Viennese orchestra musicians soon exceeded his time frame at the research centre. His own well-equipped workshop in his own house was therefore soon a popular place where the problems of many a soloist could be solved.
From then on, Breslmair's "Seibersdorf" mouthpieces set the tone and are still an integral part of the Viennese classical music scene today.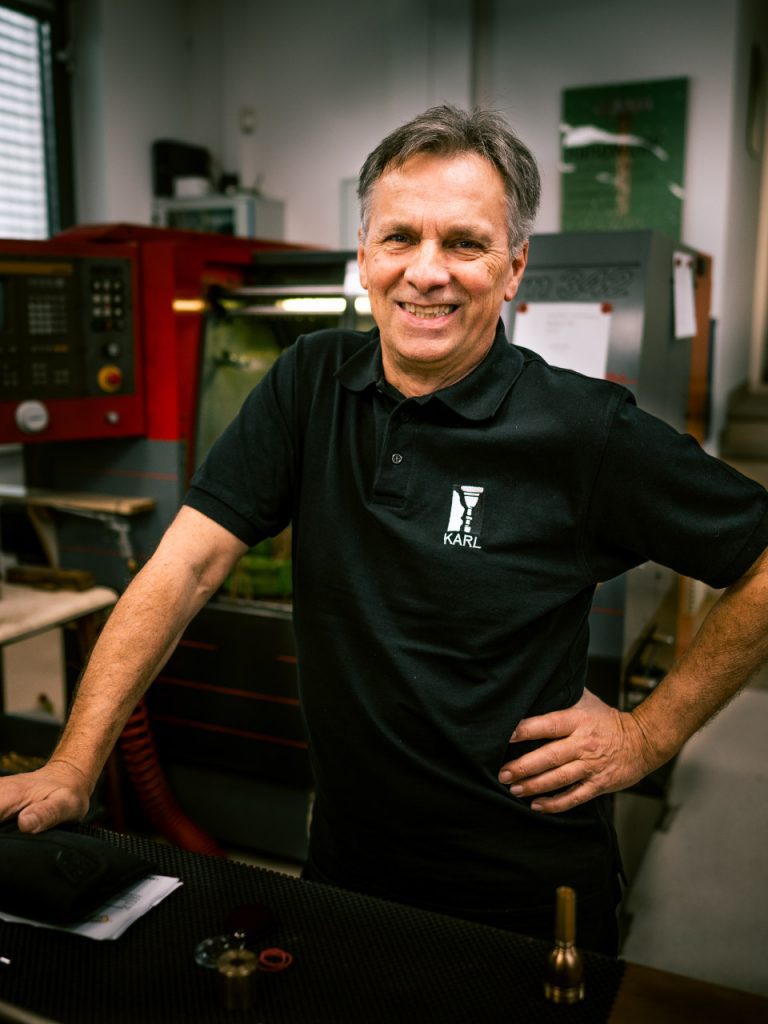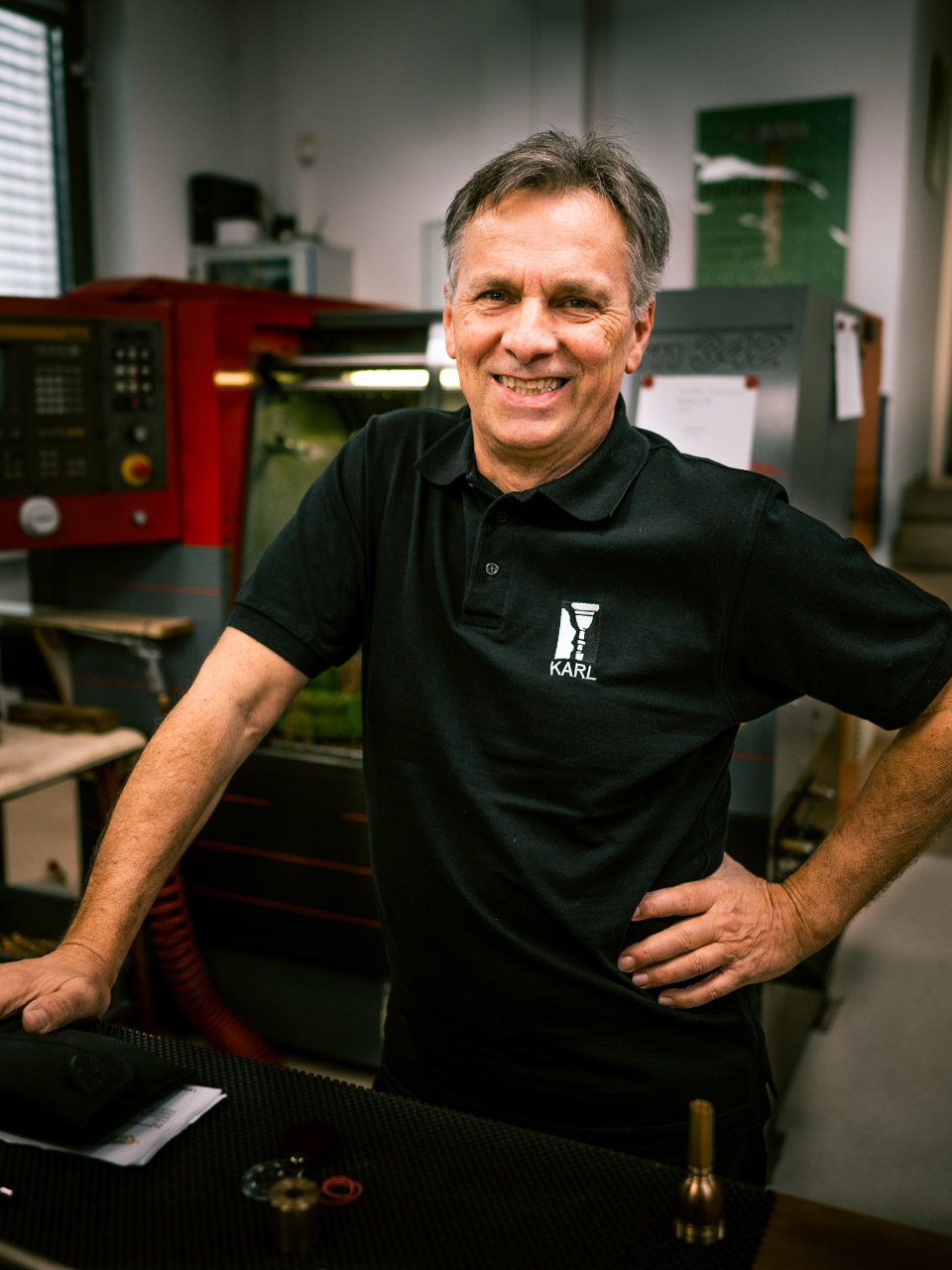 He was born on 3.9.1954 in Sommerein am Leithagebirge and attended primary school there. After eight years at the Bundesrealgymnasium Bruck an der Leitha, he graduated in 1973. In autumn 1973 he did a one-year military service and in 1974 he began his teacher training in geography and physical education at the University of Vienna.
A successful entrance examination at the Academy of Fine Arts and enrolment allowed him to pursue his craft inclinations at the place of study as well. During an interruption in his studies due to injury, his parents enabled him to acquire a pilot's licence. Apparently he was not qualified to become an airline pilot, and in an advanced selection process at Austrian Airlines he was no longer considered. Enthralled by aviation, he dropped out of university and in 1978 successfully applied to become a radar air traffic controller for Austrian Air Traffic Control. After completing four years of special training, he worked as an independent air traffic controller from 1982.
Even as a teenager, he was interested in my grandfather's work, both in his main job and in his free time. His father seduced him into violin making and so they made handsome instruments, sometimes together. What his father had ahead of him in musicality and physical knowledge, he made up for in meticulousness and a sense of aesthetics. Unfortunately, time did not allow him and my grandfather to work together in a coordinated way. Their interests and goals were too different, perhaps due to their age. Only after my grandfather's death (1985) did he begin to take an interest in mouthpieces and set himself the goal of continuing the work of his last years. How often his technical understanding and ingenuity were lacking afterwards. Is it really true that you only appreciate what you no longer have when you will never have it again? My father called him a titan.
As he wished, he followed in his big footsteps. A fascinating subject, technology in connection with music had captivated him. Just like my grandfather and my father, I too will try to serve the music and help to cultivate the Viennese style of sound. Since 1988 we have held a trade licence for the "manufacture of mouthpieces for brass instruments".
In 1994, my father bought his first NC-controlled lathe. It opened up tremendous possibilities that he was able to offer to the music scene in the time that followed.
1997/98 Research project Viennese Tuba.
From 1999 onwards, he also worked as an "airspace designer" and procedures expert at Austro Control and reduced his active pilotage to half-time. This left him with even less time available for his mouthpieces and forced him to hire staff to keep the workshop running.
In October 2009 (at the age of 55), my father ended his employment with Austro Control and took early retirement. The company "Karl Breslmair, Mundstückerzeugung" was converted into a limited partnership and I, Lukas Breslmair, was appointed as managing director.
In 2010, a spacious workshop extension was started, which was completed in 2012 and received the operating plant permit. More machines were purchased to meet the high demand for high-quality mouthpieces.
Lukas Breslmair, the continuation of a tradition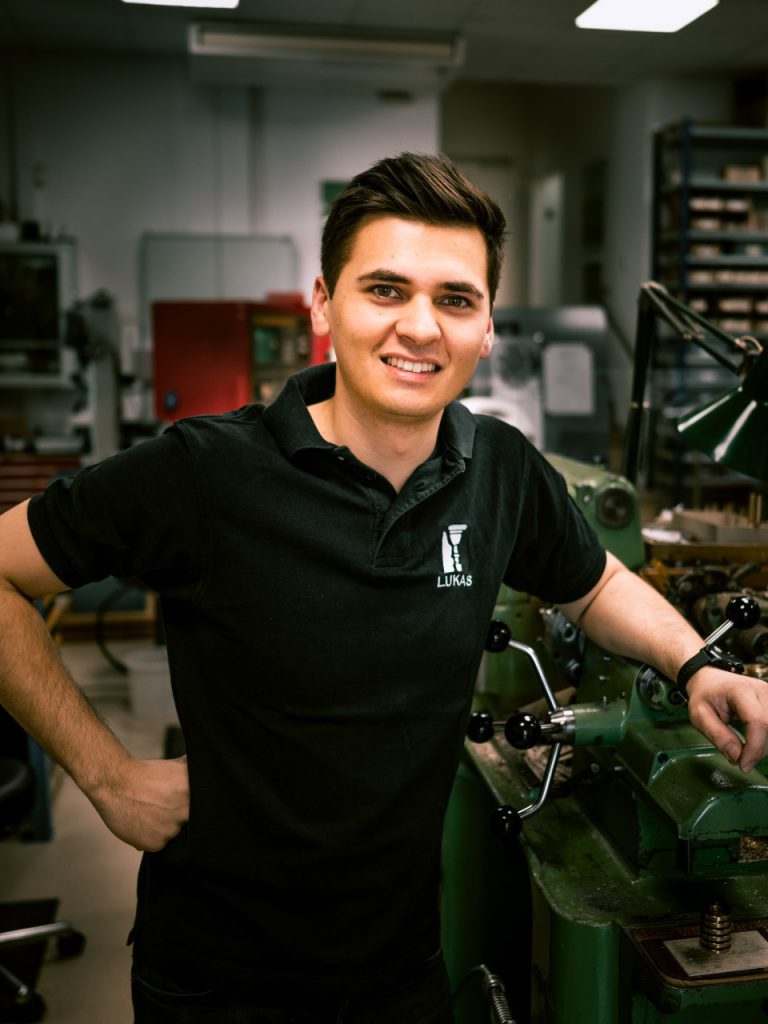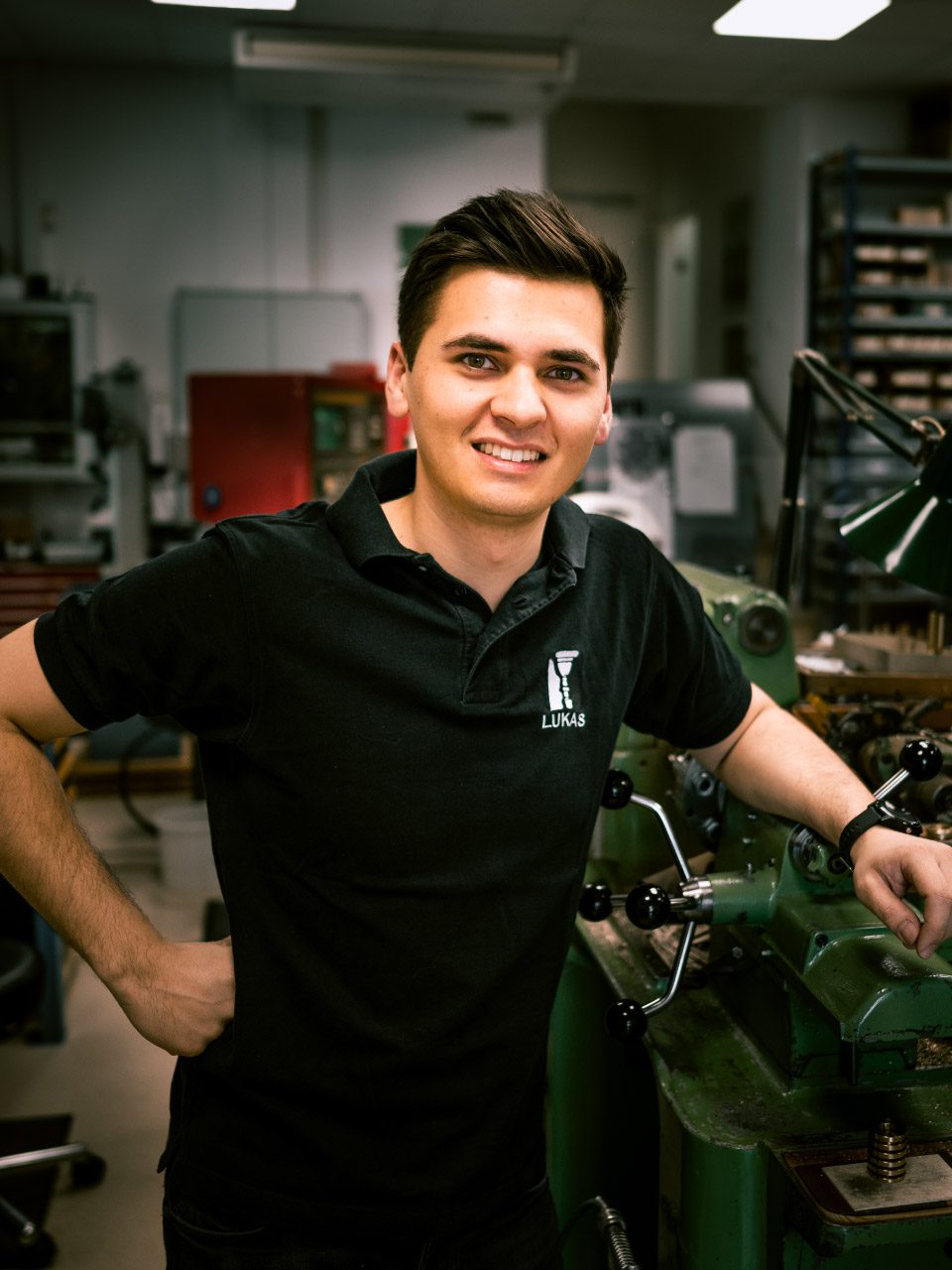 I was born in Vienna on 20.11.1989 and lived in rural Sommerein from then on. I attended nursery school and primary school in the village, and I completed my 8-year secondary school in Bruck an der Leitha. After graduating from high school, I was ready for further interesting tasks in my life, always with my father's workshop as my back-up, where I was always allowed to work and was part of a well-coordinated team.
Since my father Karl took early retirement in 2009, I wanted to help him out in business management and successfully passed the entrepreneurial exam. Due to the trust he placed in me, we decided to found a company on the basis of a partnership. The company, which had previously been run as a sole proprietorship, was transformed into a partnership - Breslmair KG - managed by me as general partner and my father as limited partner.
My interest in technology led me to start further education in the form of an HTL evening school in Wiener Neustadt. As an employee of a metalworking company in the instrument making industry, it was obvious to choose the branch "mechanical engineering and automation technology". During the day, I was able to put the learned subject-specific theory into practice well, and so the handling of the turning and milling machines in the company took on a completely different dimension for me. In 2015, I was also able to successfully complete this milestone, and no sooner was I freed from this burden than I was presented with a new challenge. As a graduate of the Higher Federal Technical School and Research Institute, at the age of 25, with seven years of proven professional experience, several companies took notice of me.
That's how I ended up accepting an interesting job offer in the automotive industry. Due to my private interest in motorised vehicles, I left the workshop at home and, from November 2015, I worked in the quality management department of an international company that develops and manufactures mechatronic control units for all-wheel drive and transmissions. Due to my meticulous way of working, I immediately felt comfortable in this environment and was able to complete certifications as a process auditor, risk manager and complaints officer. The great interest in this subject matter eventually offered me the opportunity to become part of the development department. An internal company transfer brought me to Research and Development at the beginning of 2018, where I worked until the end. Technical and commercial discussions with international customers provided interesting insights into business processes, which in turn led to a feeling of an unquenched thirst for knowledge.
In the summer of 2018, I enrolled in the "Industrial Engineer" programme at the University of Applied Sciences. With a view to re-entering the traditional family business, my diploma thesis also deals with the topic of successful company succession.
I look back with gratitude on the work of my grandfather and father and will continue the mouthpiece manufacture in their spirit in the same down-to-earth, personal and innovative way.